Public Speaking to Enhance Branding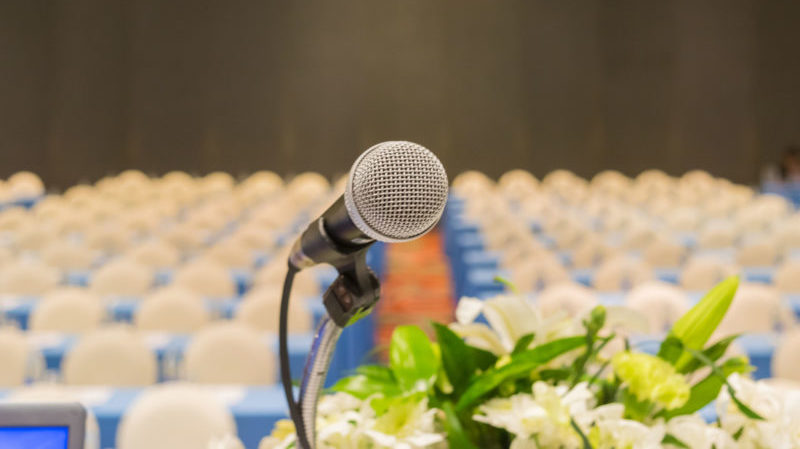 By Guest Author, Jeanne Burrows
This is the third blog in a series addressing an author's public speaking engagements [see Effective Materials for Public Speaking and All the World's a Stage].
It's time to hit the road for speaking engagements! You've prepared marketing materials, media releases, bios, and handouts for varied audience.
All you have to do is pack everything and hit the road…Not quite.
Public Speaking Preparation
I hope you've been vocalizing—in song [for those who can], vocal exercises, and oral readings. Many events have a time limit, so timing your presentation helps ensure a generous Question and Answer segment.
Next, consider your appearance. You can't lose weight quickly, but how are your hair, skin, and nails? Do your clothing and accessories look good…and travel well?
Look professional, knowing you can remove a tie, loosen a collar, or remove a jacket. [See Resume and Career Tips. Because my work centers on Hawai`i, I wear dresses in tropical greens and jackets with Asian or floral designs. Depending on neckline, I affix a name badge, avoiding necklaces (which can become uncentered). To minimize distraction and sound interference, I avoid dangling earrings and bracelets. I complete my theme with an artificial orchid for my hair—since fresh flowers don't last through long events.
Multiple Presenters
Panel discussion speakers often sit at a table or line of chairs. Whenever you're in plain view, be aware of your attire and stance…to insure you're not providing a less-than desired floor show! A dress that looks lovely when standing, may not look professional when seated. Male or female, check out other participants' attire to harmonize overall appearance. For samples of color combinations, visit Plays on Color.
Calling for Attention
Event organizers may generate Media Releases, as can you. Consider also sending out event follow-up releases, to encourage the media to seek you out.
Add a news page to your author website and blogs that highlights your travel.
Social media can be more important than traditional media. Publicize where you'll appear with contact information. If your events aren't open to the public, announce cities where you'll be.
Take event pictures [book in hand] for immediate release and future marketing materials—asking permission to use images featuring other people.
Travel Considerations
When possible, ship books and some marketing materials in advance.
Allow one day for rest and preparation prior to your event.
Purchase travel tickets permitting change of schedule.
Plan ground transportation minimizing strain on you, as well as cost.
Hosted accommodations lessen privacy. A B&B may be appropriate when driving. Hotels usually provide airport transport, valets, safes, and restaurants.
Financially, notify credit card institutions you're travelling. Obtain cash for tips. Determine if you need a tax or sales license. Decide whether to accept credit cards, electronic payment, and/or cash for sales.
Carry emergency clothing, accessories, medicines, and toiletries in hand-held luggage, in case checked bags fail to arrive.
Personally carry hardcopy masters and electronic files for reproduction.
Dress to attract attention while travelling—name badge, book image, and business cards at the ready!
Set Your Stage…When you can
Position a banner or picture on podium front.
Check lights, sound, and projection equipment.
Position speaking materials, large watch, laser pointer, pen, props, travel mug with slightly warm water.
Display signage, marketing materials, books, handouts, and sign-up sheet for future event notifications near the entrance—manned when possible.
Be aware that electronic projections often fail because of file format incompatibility between source and venue operating systems and versions of software.
Maximize visibility of necessary folders and files.
Carry backup hardcopy of your presentation for you and handouts of primary points for your audience.
Before, During, and After Performances
Warmup vocally and physically.
Provide event organizers with your bio and a short introduction.
Pace yourself…allow time for Q&A to maximize audience interaction.
Conclude with an inspiring thought. I often hold up a pin with a single word…
Make periodic eye contact with your audience. Let attendees feel you care about them individually.
Sending gracious Thank You cards/gifts helps maximize an event's long-term branding value. Carry mailing labels, packing supplies, and postage.
For more ideas to maximize being memorable, see Wearing your Brand at my marketing website.
Wishing you the best,
Jeanne Burrows-Johnson, author of the Natalie Seachrist Hawaiian Mysteries