Discoverability: Learning How to Optimize Amazon Ads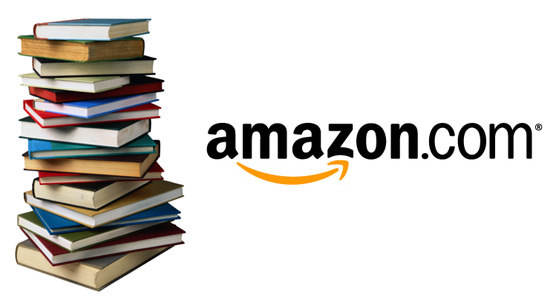 By Guest Author, Dean Kutzler
In the ever-changing world of book publishing, one thing always remains a deadly constant: Discoverablity. Without discoverability, many New York Time's bestselling books wouldn't even graze the bottom of the list. A new book could be the next BIGGEST thing since the Da Vinci Code to rock the Kindles of millions of readers–but without discoverability, it'll remain in the digital files of Amazon, gaining little digital dust mites until the end of time.
There are many approaches to marketing when it comes to books, like the amazing book funnel, where the first book in a series is usually free and the subsequent volumes are priced on an escalating stair scale. Book two $2.99, book three $4.99, and so on. The idea is that a reader get's hooked on the freebie and voraciously chomps through the rest of the series, earning the author a pretty penny.
That little marketing tactic has made many authors very rich, a few years ago, and is still pretty popular now! But, over time, many new writers have entered the market and so the copy-cat syndrome began, leading us to the devaluation of our precious works. Even though that plays into the reasoning for the decline of the book funnel, we'll leave that topic for another time and another post. The main point is that what worked yesterday, may or may not work (as well) today. An author also needs to have more than one book for it to be profitably successful.
So? What can you do if you only have one book?
There are many free things like content marketing (such as this article), social media and online presence, platform, etc. But all those things take time to cultivate, in turn, taking valuable time away from writing the next book; which, by the way, is the most important thing. If your book is a smash hit and you gain a lot of fans, how long do you think it will be before they forget you? Not long, so make sure to have book two ready within a year's time if not sooner.
Another way to market your book is through paid ads. There is a whole host of online advertisers ranging from free to Bookbub. That is, if you're one of the lucky ones to get in Bookbub, and have a boatload of cash to spend on marketing. Bookbub seriously delivers, but it is costly and they have their own set of requirements before they'll even consider a book. What are those requirements? Your guess is as good as any other. Ratings, reviews, etc. But it is much more than just that. If you get in–beg, borrow or pull from your 401K, it's worth it! Bookbub is a major player!
But why?
Because email marketing is still the #1 best method for selling. Bookbub has cultivated hundreds of thousands of genre specific followers, looking for free or cheap reads. Readers sign up to Bookbub for free, put in their genre preferences, and everyday those readers get a fresh email filled with specific books, tailored to their liking, all with free or discounted prices!
With that being said, I must mention that it is imperatively important for you to build your own email list. It won't happen overnight. Don't get discouraged. It's a slow process. One that is totally worth it. With an email list, you don't need to rely on any marketing other than your own word of mouth, nor do you need to rely on a retailer. You could sell directly from your own site!
This works quite nicely with that book funnel tactic we spoke about. In book one of the series, put a nice little note along with a handy, clickable link, at the back of the ebook, asking people to join your mailing list. I like to use the words reader's group, instead of mailing list, because it sounds less spamy. There are free services out there like Mailchimp that can store these emails for you.
Let's say (and pray) your first book is a fabulous hit! Hundreds, if not thousands of people sign up. Do I really need to paint the next picture? Let me get the brush…You now have the Cadillac of vehicles in which you can pitch the sale of book two. If all those thousands of people liked book one enough to hand over their very private and coveted email address, how many do you think will buy book two?
Exactly.
Again, cultivating your own email list can take a lot of time. So what do you do if you only have one book, limited time and barely a buoy of cash? Today, I'm going to focus on just one, relatively cheap method of marketing that I found to have some seriously handsome results that worked for my book: Amazon Ads.
My first experience with Amazon Ads was a shot in the dark. I followed the prompts. I made a nice picture, put in some keywords that were relevant to the topic of my book. Chose the length of time and budget. Then hit go and…
Nothing. Hardly an uptick in sales.
I soon realized Amazon was all about algorithms. If you don't know the definition of algorithms, then here it is: a set of rules for solving a problem in a finite number of steps, as for finding the greatest common divisor.
In this case, the greatest common divisor is your reader, and the set of rules are the reader's interests or a reader's buy pattern. Amazon, the juggernaut of sales, developed a computer program through machine learning that can identify reader's interests through their buying patterns, and match them up to other author's of similar style and content.
Still confused?
You should be, because Amazon is very tight-lipped about their algorithms, rightly so, because it is part of their secret for being the largest online retailer in the world. There's a lot more going on with Amazon's algorithms than just my definition, like the amount of reviews, star ratings, sales and author rankings, etc. I've discovered a way to "tickle the algo" as they say, and increased my sales by almost 40%. It's a very simple and structured process.
If you're wondering what I did wrong on my first Amazon Ad attempt, I will tell you it had everything to do with the keywords and ad type I chose. I did pick all the relevant words for my genre, topic, etc.–which is what Amazon wants–but that left my book in the sea of all the other books with the same keywords.
Tackling keywords is a difficult task. Even if your book has some really unique factors where you can utilize unique keywords, so you won't be lumped in with the rest, you'll still be relying on a large niche of people to search for them. And the chances of that are slim. I know, because I tried it.
I couldn't understand why they weren't working. Then, I realized it was because Amazon wasn't just using those keywords that I'd entered to make its decisions. Think of Amazon's Algos as one big, symbiotic creature consisting of many products that feed off of one another. It uses everyone's choices, over a very long period of time, to understand patterns. Most of us gravitate towards one genre or type of book. Using that information and combing it with the genre the books are in, can help it understand what authors or books you might like. It's much more complicated than that, but, basically, that's the gist.
Now, on to the process.
I'll trust that you're tech-savvy enough to follow the prompts when you're ready to set up an Amazon Ad. Just remember this when the time comes to pick which type of ad you'd like to run: Choose SPONSORED PRODUCTS, not Product Display. Sponsored Products are where your book ad is listed in the middle of an Amazon page in a string of other book ads, labeled Sponsored products related to this item. Product Display ads show up on the right-hand side of the page and are often overlooked.
In the shameless promotion picture below, I've indicated what each ad will look like. Please excuse the stitching. The picture was too big for one screen shot, even with reduction. Okay, okay…I couldn't reduce it without losing the details of my book! After all, discoverability is king!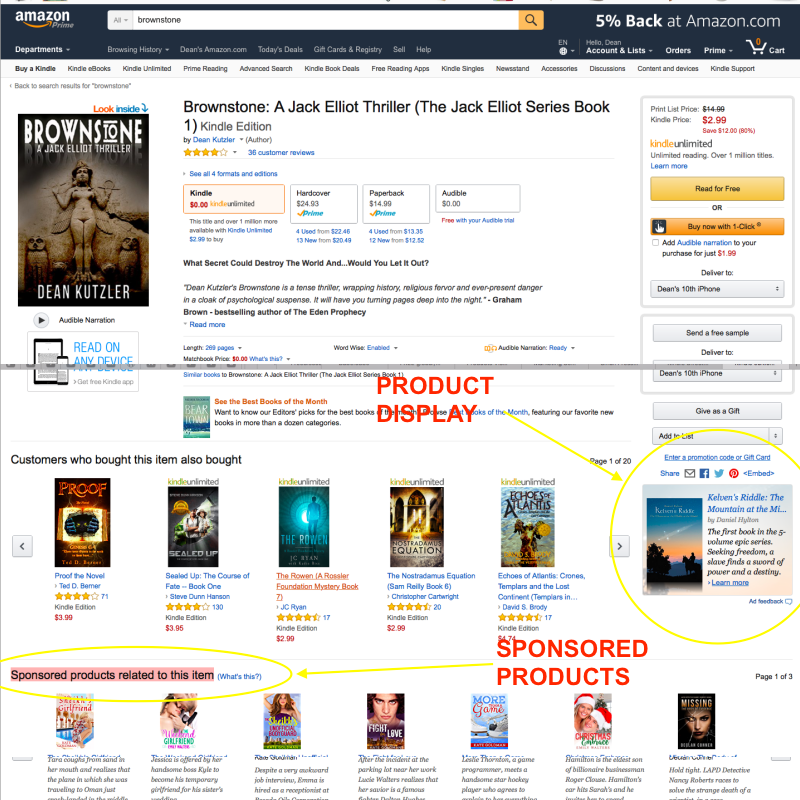 Now for the legwork. I promise, it isn't that difficult, but you do need to do a little research. I'll use my book as an example and also to stick with the shameless promo theme!
Brownstone is very similar to The Da Vinci Code. There are secrets, famous art and a protagonist that is running his butt off! Lots of fast-paced action. It is also comparable to various works of James Rollins, Joanna Penn and Clive Cussler.
Notice the theme?
The first step is to identify other books and authors that are similar to your work and style. Make a spreadsheet or use any program that has good cut/paste functionality because you'll be doing a lot of it.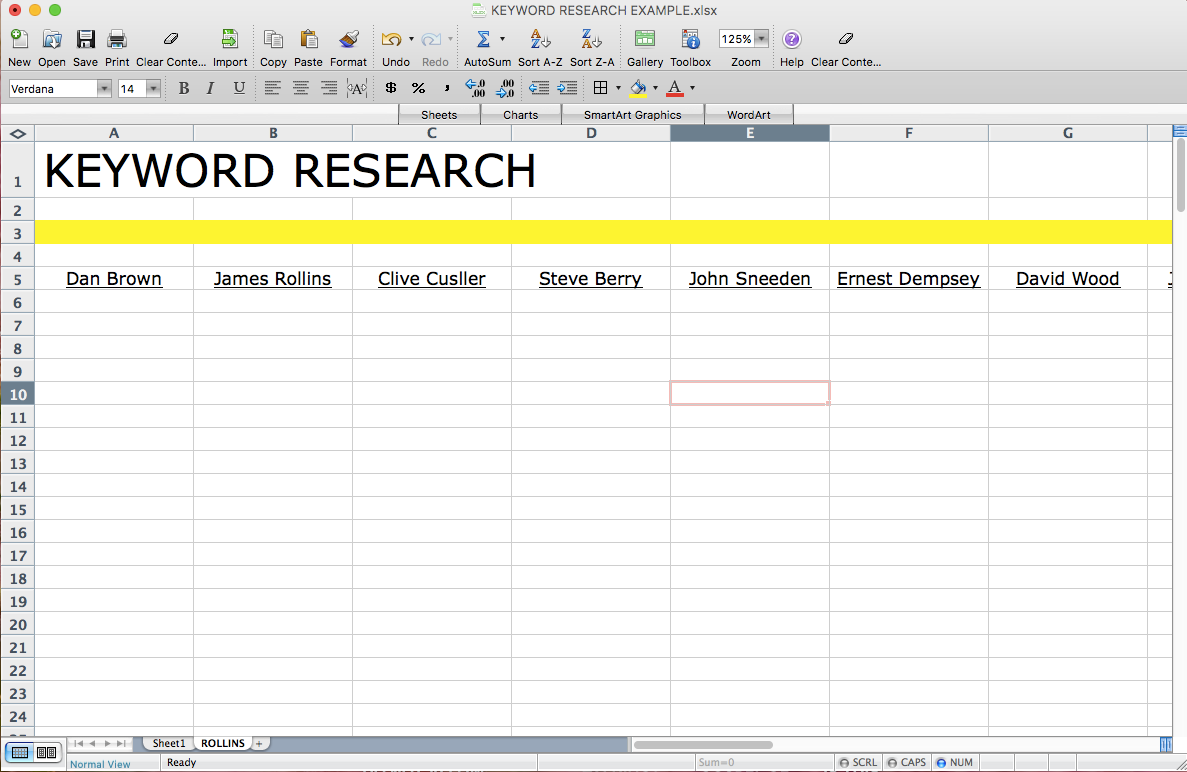 Next, navigate to each author's main author page on Amazon, then locate the ALSO BOUGHTS just below their picture, name and bio.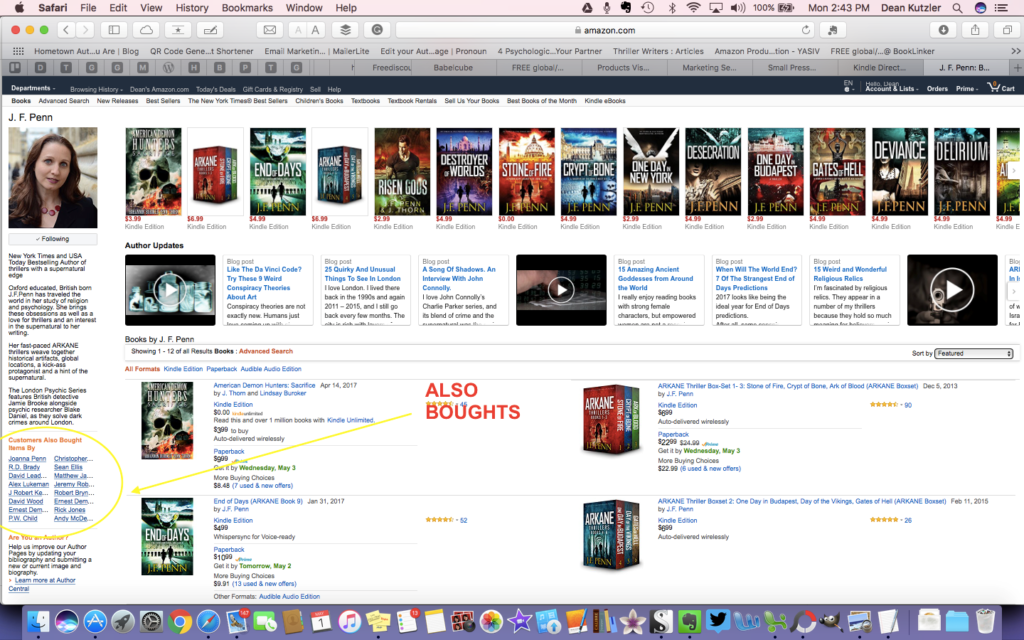 Then, copy and paste them into your spreadsheet. Be careful, because some of the names are too long and will have dots at the end. Just click them in Amazon to get the full names.
Next week, I will dive into Google Keyword Planner Search and how to integrate your Amazon ads. Happy book marketing!