Finding the Right Hook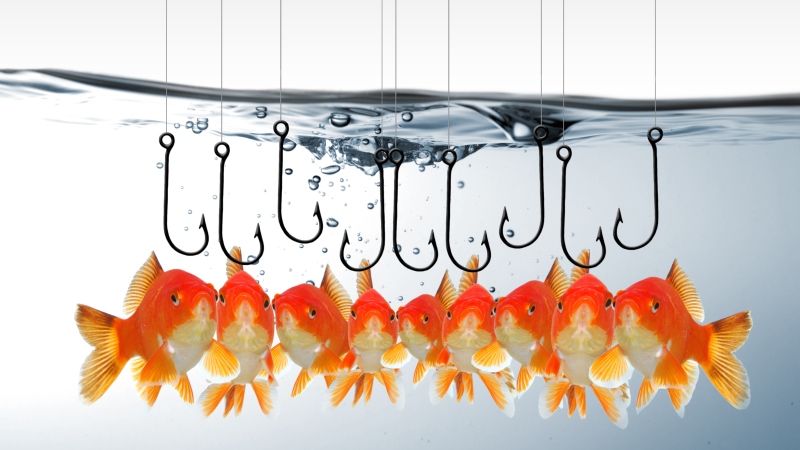 By Guest Author, Saralyn Richard
I used to teach journalism, and one of the first lessons about writing a good journalistic article was finding the right hook to appeal to the audience. The more I learn about book marketing, the more I find the comparison to fishing to be apt.
When I self-published my children's book, Naughty Nana, almost five years ago, I cast about, looking for venues where dropping a line might draw the most fish. Bookstores were the logical first choice but the stores had lots of children's books written by local authors, so what would make mine stand out, or be the biggest fish in the pond?
Mascot Nana
I realized the answer was living and breathing right next to me—it was the real dog, Nana, the Princess of Pandemonium, who had inspired the book to begin with. As the fluffy narrator of the book, Nana was a ready-made mascot. A magnet for children and their parents, Nana soon became my sidekick, and we began scheduling visits to schools, libraries, museums, play groups, and birthday parties. It was the perfect way to introduce the Naughty Nana story to its audience, almost like having the Hollywood star appear in the movie theater for each showing of the film. We devised a way to include Nana's pawtograph in each book, and we offered photo opps with every sale. From then on, acquiring a copy of Naughty Nana became an experience, not just a purchase. Nana was the hook to making the book a hit.
When my second book, an adult murder mystery entitled Murder in the One Percent, was nearing its release date, I realized that marketing this traditionally published book would be an entirely different fishing expedition. Sure, thanks to Nana, I had developed a cadre of readers who were enthusiastic about my next step in the literary world, but Nana wouldn't be able to travel with me to plug the murder mystery and take the limelight, and my cherished readers aged 3-8 wouldn't be clamoring for suspense and intrigue for their bedtime stories. I would have to find another hook.
Casting a Wide Net
No easy substitute for Nana came to mind, so I began brainstorming for what might attract the interest of this book's audience. I realized that Murder in the One Percent had multiple audiences: beach readers, airplane readers, stay-up-late-to-finish-the-novel readers, readers who loved solving puzzles, gourmet food enthusiasts, wine connoisseurs, horse owners, Wall Street types, minorities, fashionistas, local readers, and on and on. Every niche sparked ideas for marketing, and I realized that I would have to cast a large net with this one.
The various hooks have led to diverse and interesting experiences, and I'm just getting started. For example, some audiences are fascinated by the fact that Murder in the One Percent is a locked room mystery. Others love it that the peaceful area of Brandywine Valley is the setting for a murder. Yet others find the use of a rare, but naturally-occurring poison to be of interest. Marketing the book has engineered a reunion with my high school English teacher who inspired me to be an author, and that drew a lot of hometown fanfare. The owners of a restaurant mentioned in the book have shared info about it on social media. Bird-lovers like it that the detective has a pet cockatiel. Military personnel enjoy reading about the character who is a Navy SEAL. And the list goes on. My job when it comes to marketing is to find the right hook for each audience, not so much to reel them in, but to expose them to the story I think they will love. Hopefully, they'll eat it up and want more.
I don't know everything about marketing books. I enjoy reading about other authors' experiences, successes, and challenges. Whatever works is worth sharing, and that's one of the benefits of Hometown Reads.