You Have to Ask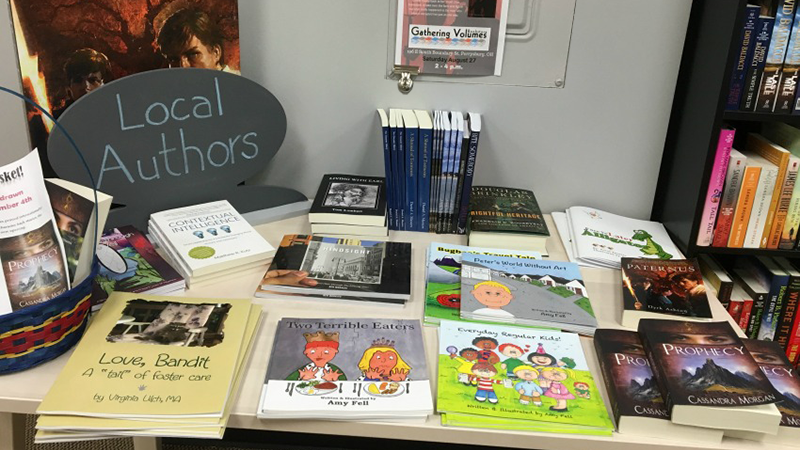 My kids and I anticipated visiting a new indie bookstore in a nearby town. From what I could tell, the owner seemed receptive to local authors. After a brief phone call, I learned that she'll accept local authors' books on consignment.
The store, Gathering Volumes in Perrysburg, Ohio, opened this year and is the only independent bookstore in Wood County, Ohio.
Hometown Authors from our Toledo, Ohio page on Hometown Reads began reaching out the store's owner, Denise Phillips. Soon, I saw many of the authors with book signing and book launch events on the store's calendar.
How did these authors manage to get their books on the shelves at a local store? How did they manage to schedule events?
They asked.
Success in book marketing requires asking people for help. While it may be intimidating to reach out to a local business owner, remember that the possible upside of asking for help and getting a yes is far greater than the downside of disappointment when you hear a no. Chances are, local store owners, especially new ones, are looking for ways to get the word out about their stores and will welcome any business you bring their way when you let people know they can find your book in store or people visit a store for the first time as a result of your invitation to an event.
Here are a few tips in approaching bookstore owners:
Minimize risk for the store owner. If the store owner seems reluctant to stock your book, offer to place the book on consignment or accept returns.
Look for ways to help the store owner. Let the store owner know you plan to send people to her store to find your book and follow-through by regularly sharing your local store's posts on your social media channels or by linking to the store's website from a logo/ad on your blog.
Support your local independent store by choosing to buy your books there instead of other retailers. The best way to help your independent bookstore succeed is by buying books locally. Even better than buying from your local store is buying books by local authors at your local store. Buy and read local to fuel a movement of collaboration and support between store owners and local authors.
Here are a few tips in helping other local authors in your area in getting their books stocked and locally:
Start and share a list of local author friendly stores. Once you've found a store that is open to stocking local authors' books, share that information with other authors from your hometown. If you have specific tips about what works well in communicating with a specific store owner or manager, share that information, too.
If you participate in your own local bookstore event, share lessons learned with other local authors. What did you do that worked well? What didn't work well? What knowledge and experience can you share that will help other local authors plan a successful book event?
When Read Local meets Buy Local, both authors and bookstore owners will achieve greater success.
What action will you take to fuel the Read Local/Buy Local Movement in your Hometown?